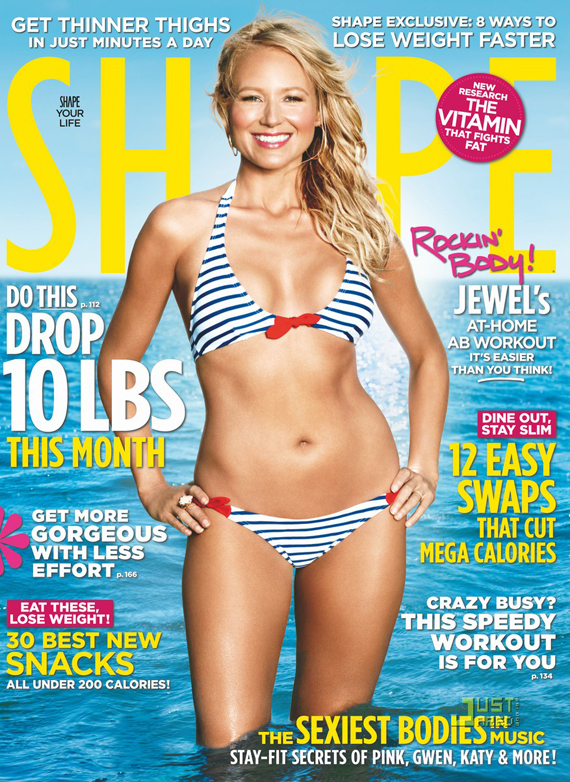 Jewel's bikini body: on the cover of Shape Magazine
Singer, Jewel, 35 admit that she is hurt on being called "the chubby Renee Zellweger" in the media years ago. She ended up bingeing on an entire cake and tried to throw it all up afterward, but then she decided to not do harm to her body.
She perform an abs exercise two or three times a week to stay slim. On an interview with Shape she revealed that her husband, Ty Murray don't work out at all. His high metabolism allows him to eat whatever and not worry about weight gain.
If you are in similar situation, you can still slim down even if your spouse won't support your efforts or even tries to interfere with them.
Moneywatch.com
tells how:
Jewel and husband, Ty Murray
1. Seek Out Support.
Find a friend, colleague, or other family member who is willing to lend encouragement. Exercise together or meet for a healthy lunch a few times a week. Or consider a formal weight-loss support group or program. Keep in mind that some programs require a fee.
2. Talk to Your Spouse.
If you encounter resistance, like snide comments about your weight or a refusal to eat the healthy foods you serve, ask how your spouse feels about you losing weight. Your partner might be insecure about your motivation for looking better and try to sabotage your efforts.
If you can't soften your spouse's resistance, learn to protect yourself from criticism so you'll stick with your weight-loss program. And if your spouse criticizes the meals you're making, describe their health benefits rather than their weight-loss benefits. Explain that foods like fish and leafy greens help prevent heart disease.
P/s: Last year, Jewel announce that she and husband are expecting their first child.