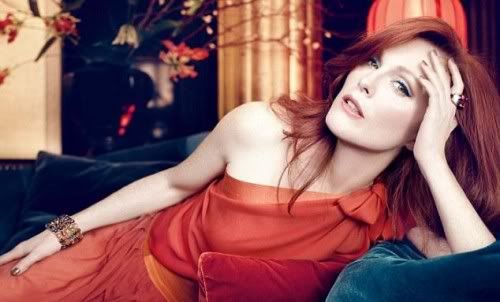 Pose for InStyle: Julianne Moore looks seductive and amazingly youthful.
Sun is a good source of Vitamin D. Vitamin D are essential to build strong bones and teeth and
helps the immune system to fight infections.
But exposing yourself to the sun too long can damage your skin. Skin cancer and risk of eye damage are among the danger. Sunlight is also responsible for premature aging.
Julianne Moore at 50: Looking fabulous on InStyle cover, May issue.
Skinnyvscurvy

quoted Julianne Moore on how she keeps her skin soft and wrinkle-free:

"I say this to every young person I know. Stay out of the sun! I have very fair skin and it would have been super-damaged. I always wear

sunscreen

and I walk on the shady side of the street."

The 50-year-old actress is on the cover of InStyle magazine, May issue. She looks amazingly gorgeous.

When you are outside, using sunscreens can help you reduce the risk of skin damage from sunlight. The hours between 10 am and 3 pm are the worst times to be outside. To give your skin a chance to fully absorb, apply sunscreen about one-half hour before going out in the sun. The sunscreen SPF number gives you some idea how long you can remain in the sun before burning. For example, you would normally burn in 10 minutes without sunscreen, applying a 15 SPF sunscreen may provide you with about 150 minutes in the sun before burning.
Many people thinks sunblock and sunscreen are the same. According to
Harvard Medical School report
, this opinion is wrong.
Sunblock
reflect the UVB light and blocking the sun's rays from reaching our skin. Sunblocks, such as zinc oxide and titanium dioxide, are highly effective in protecting against both UVA and UVB rays, the types of UV radiation that cause sunburn and
skin cancer
.
Sunscreen
absorbing and reflecting UV rays and allows a certain range of UV light to be absorbed into the skin.It helps protect against UVA rays as well as UVB. You'll see these ingredients listed as oxybenzone, octyl salicylate, or octyl methoxycinnamate.
P/S: My husband use to got sunburn after playing golf, even when it's cloudy outside. I suggested him to use Banana Boat Sport Sunblock Lotion, SPF 50 and it worked very well on him.Which do you pick, a sunscreen or a sunblock?