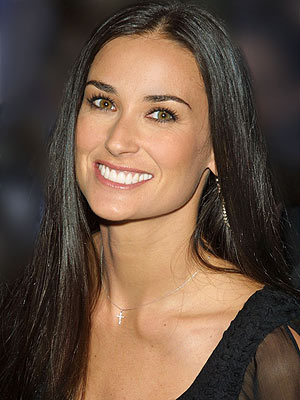 Demi Moore
Does being slim makes you look younger? Sometimes it does. Just look at Demi Moore. Are you believe this gorgeous actress is actually 48 years old? She could be mistaken as her daughter's sister when she walk hand in hand with daughter, Tallulah Willis. Many speculated that Demi have undergone a series of expensive plastic surgeries to be slim and made her appear decades younger.
Demi Moore and daughter, Tallulah Willis
To be slim and maintain it, Demi is known to has been practice on raw food diet. Her stunning appearance, walking in a bikini on "Charlie's Angels: Full Throttle" speak louder than words. Raw food diet is basically an uncooked food. However, heating food below 104 to 118 degrees Fahrenheit is acceptable. According to raw foodist, uncooked foods provide living enzyme, helping us to digest food and absorb nutrients. Foods which are cooked above this temperature have lost their enzymes, thus will lead to digestive problem, dull skin and weight gain.
Demi Moore in Charlie's Angels: Full Throttle
It looks like raw food diet works on Demi. If you think it might work for your goal to be slim but don't know where to start, what to eat and what tools to use, Karen Knowler the author of
The Raw Food Coach
save your time by sharing this 10 tips on how to start a raw food diet.
1. Understand what all the fuss is about
As old as time itself, raw food was, of course, what we ate before fire was discovered (we must have done OK on it to get that far!) and more recently, thanks to the efforts of pioneering authors such as health researcher
Leslie Kenton
and others outside of the UK who bravely waved the flag for raw food in the 1980's and beyond, we now find ourselves in an era where raw food is no longer seen as the domain of extreme health "fanatics" but instead merrily making its way into the mainstream media, celebrity diets, healing centres and retreats, increasing numbers of health and nutrition books, products and seminars, as well as featuring more significantly in supermarkets, health food stores and much more besides.
2. So why raw?
Raw food is quite literally honest food - what you see is what you get. Untouched and untainted. Raw food is replete with everything that enabled it to sprout and grow in the first place - life force, enzymes, water, oxygen, hormones, vitamins and minerals and so much more besides. No hidden ingredients, nothing messed around with, just pure delicious fresh live food that we are designed to eat - living food for living bodies. And the good news for you is this: when you start dabbling with more raw food, you don't just understand this conceptually, you actually start to "get it" experientially as your whole body cheers, shifts up a gear and the concept of what real food and nutrition is really all about starts to take on a whole new meaning.
Cooked food in contrary is a natural food which has been processed and/or heated to high temperatures where chemical changes have occurred and the food has changed from its original state to something which, depending on the severity of its treatment, can end up looking like a very pale shadow of its former self (think of spinach cooked and raw). While cooked foods may most certainly tantalise the taste buds, this is largely because of their stimulant effects on the body which - in actual fact - doesn't actually "understand" a lot of what it's taken in as many of the chemicals within cooked foods are unnatural and therefore the body sees them as foreign bodies! Indeed, fascinating research in the 1930's showed that when someone eats cooked food without having eaten some raw food first, the body sends the white blood cells (which fight toxins) to the digestive system in order to deal with the perceived "invader". Interesting, don't you think?! And while yes, we can glean nutrition from this fractured, denatured "food", every time we cook our food or buy something pre-prepared and cooked in a can, box or bag we lose up to 70% of the vitamins, some of the minerals, all of the enzymes, all of the oxygen, the important plant feel-good hormones and a high percentage of the water - all of which we need to reward us with truly vibrant health. So that's cooked food!
Doesn't seem quite as attractive when we look at it that way does it?!
3. What foods are raw?
To give you a brief overview of what raw food means in real terms, here's a list of the 20+ different raw food groups: Fresh fruits; Vegetables; Salad vegetables; Leafy green vegetables; Herbs and wild greens; Nuts; Dried fruits; Beans, pulses and legumes (sprouted); Grains (sprouted); Seeds; Sprouting seeds; Indoor greens; Vegetable seeds (sprouted); Edible flowers; Mushrooms; Sea vegetables; Algaes; Oils; Stimulants (e.g. chilli, ginger, onion); Spices; Superfoods; Flavourings and natural sweeteners (e.g. agave nectar, stevia).
4. How to get started
Getting started and keeping it doable is easy when you adopt the pure and simple approach: whole raw foods, prepared quickly, eaten simply - and you must only eat the foods you love! This must always be
quick, easy, healthy and delicious
- that's rule number one! Rather surprisingly to those new to raw food, the discovery process of what raw food is really all about is a never ending journey. So don't wait to get ill, overweight or lethargic before you start tending to your body's dietary needs - start your journey to exciting and rewarding pastures new today!
First, try your best to eat fresh fruit or a dairy-free smoothie for breakfast every day instead of your usual toast, cereal or coffee. Eat or drink as much as you want (of the raw stuff) but keep it clean. What you eat first sets you up for the day - so make sure you step out on high-energy, revitalising foods rather than charred bread, lifeless sugar-coated grains or caffeine-laden hot drinks!
For lunch and dinner, this is so easy. If you can make at least half of your plate consist of fresh living foods (salads, nuts, seeds, sprouted seeds, sprouted beans or any of the foods mentioned above in point 3 - but not all of them!!) then you'll be doing fantastically well and will typically start to feel the difference within a matter of days (look forward to more energy, better sleep, clearer thinking and clearer skin). Improve your results even further by drinking as much pure water as possible, eat only when hungry and not beyond full, and keep the remainder of your food as whole and pure as possible (no e-numbers or hydrogenated fats and so forth) and you will feel the benefits all the more. Also, of the raw foods you do choose, make sure that most of them are fruits and vegetables as these are the most nutritious and the highest in water content. Handfuls of nuts just don't work the same - they're very dense and fatty, but in small amounts are very good for you. If you can put most or all of the above into practise then you'll be amazed at the difference!
5. What you need and where to get it
Raw recipe books tend to focus on the more complicated dishes and therefore often fancy foods and equipment are utilised as part of the recipe creation - but don't be put off, raw food prep doesn't have to be complicated or expensive! While it's by no means imperative that you own every kitchen gadget going, it really does help to own at the very least
a tabletop blender, a cheap juicer and a basic food processor
- all of which you could buy for under £100 or even cheaper if you visit
eBay
; but if budget is an issue then a good sharp knife will take you a long way for free! However with the three items listed new and exciting vistas will open up to you, and if and when the time feels right to invest in something more durable and powerful then you'll be amazed at what's available in the health world right now.
As for foods, you can get most of what you need in the organic section at Tesco, or a local organic farm shop/farmer's market for the really good stuff that no supermarket can compete with in price or quality. If you didn't have a good Tesco then opt for an organic box delivery through a company such as
Organic Connections
,
Abel and Cole
or
Everybody Organic
.
6. How to keep it interesting
When you're new to raw food it's easy to assume that salads, soups and smoothies is as good as it gets when you're watching the clock. While it's true that the more elaborate recipes often do take more time and energy, there are always short cuts and whipping up a delicious dressing, dip or even a nut "cheese" or veggie pate takes literally seconds and can totally transform a meal!
[For Karen's 50 Quick, Easy, Healthy & Delicious Raw Food Recipes eBook
click here
.]
7. What about eating out?
This is one of the most common questions asked - and the answer is - it's completely up to you. You can choose to eat "normally", to make healthier choices than usual or to ask for a juicy salad with all sorts of things thrown in, but above all, enjoy what you eat and feel at peace with it!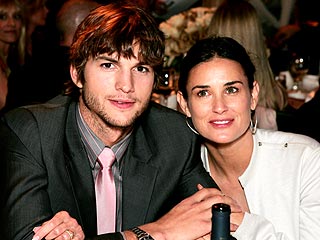 Demi Moore and her 15 year junior husband, Ashton Kutcher
8. Does it have to be all or nothing?
No, not at all. Until very recent times very few people ate an exclusively raw food diet ongoingly. In fact most people today still dabble for weeks, months or even years at a time until they feel inclined to "up the ante"! Also, nowadays people tend to talk in percentage terms - such as "I'm 80% raw" which basically means that they eat most of their food raw but not all of it, and they're guessing that 80% is about right in terms of plate space/ meal make-up etc. - but it's not really that important. What matters more is the quality of the food you choose - if 80% of someone's diet consists of nuts, seeds and raw food snack bars then that's never going to be a good thing (way too much fat!) whereas 80% worth of fresh fruits and vegetables is wonderful! What also matters is not just what you bring into your diet but what you leave out. It's no good eating lots of fresh vibrant food if you "balance" it out with take-aways and aspartame-ridden diet drinks! Much better to do 50/50 and make all of your foods good healthy choices, and then if you want to adjust the proportion of raw foods then you can do so at any time. All that said, the more raw food you eat, for most people at least (those with medical issues need to take professional advice), the better you will look and feel - and here's why...
9. What you can expect
When you choose raw, as we have already seen, you choose "life". Live food will nourish you at a deep level (deeper than any deep-pan pizza will ever reach!) and it will also start to work its magic on your body in a very short space of time. This magic sometimes doesn't look so magical though! Because as the toxins and debris begin to leave your body as the raw food starts to cleanse your system, you may experience some detoxification symptoms such as diarrhoea, rashes, pimples (spots), headaches, dizziness, coughing and mucous and other similar discomforts. This is usually nothing to worry about, but it may happen. If it does, keep drinking plenty of water and eat even more simply to speed the elimination process up if your circumstances permit it.
But if you feel as if it's all going a bit too fast for you then if you eat something cooked, especially something heavy like meat, potatoes or dairy, then you'll slow it all down or even stop it completely. You can restart again more slowly or leave it for a few days or weeks and go again when the time feels right.
On the flipside, the good news is that when this stuff comes out it means that your body is - of course - all the better for it and this will start to become apparent in your face, your body shape and body tone and your energy levels surprisingly quickly. And if you carry on the good work to any degree for more than a few weeks, then you'll find it very hard to go back to your old ways because there's really not a lot of fun to be had there. In fact most people find that very quickly cooked food starts to taste seriously bland and inferior to fresh and raw - especially if they've educated themselves in those delicious
raw food recipes
I keep alluding to!
10. Taking it further
As mentioned before, the raw food journey never ends, but it does get increasingly rewarding and exciting! Not only is there a whole new world of food and drink waiting for you (which is growing fast), but raw food tends to attract some pretty amazing people and takes you on an exciting adventure in terms of getting more in touch with your body and your whole self generally.
Demi Moore in Marchesa's pink suede dress at the premiere of 'The Joneses' in Los Angeles
Final words
Whether you want to learn more about how to prepare delicious raw food meals, want to read more about any aspect of going raw, or want to meet others new to it or more experienced, the first port of call - especially for those in the UK - has got to be
The Fresh Network
, an organisation founded in 1992, which Karen Knowler ran between August 1998 and February 2007, which has been supporting people for 15 years and offers mail order, classes, a quarterly magazine, an annual raw food festival and much more. And if you're looking for more personal assistance, to find raw food recipes like those mentioned above, or to see the food made live (and to get your hands on it too!) then have a good look around
Karen Knowler's web site - The Raw Food Coach
for the myriad of ways she can assist you on your fabulous journey to health and wellness.
ps - If raw food diet is not your thing, you may want to consider different approach to be slim in 30 days with Carb Rotation Diet.