Her son made fun of her candid photo, but for
Kathy Ireland
it's a wake-up call. It was back in 2009, when her son took a photo of her as she baked cookies at the family's Santa Barbara house. Her belly fat made the former Sports Illustrated swimsuit issue cover girl looked like she was 5-months pregnant in the photo, just as her son jokingly said, '
Mom, you look pregnant.'
Kathy Ireland later said in an interview with
PEOPLE
that she didn't recognize the person she saw in the image.
"I saw someone who looked overwhelmed, overstressed, overweight, over-everything."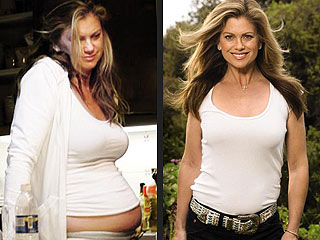 The wake-up call photo that put Kathy into action to get her life back.
It's sure an awkward (and embarrassing) situation when everybody mistaken your belly fat as pregnancy. Kathy took an immediate action to banish that ugly belly fat, and get her life on track with the help of a personal trainer and nutritionist friend.
Kathy Ireland was featured in the annual Sport Illustrated Swimsuit Issue for 13 consecutive years, from 1984 to 1996
Belly fat does not only gives an ugly look, but according to
Mayo Clinic,
researchers has found that belly fat has been associated with serious health problems like cardiovascular disease, stroke and type 2 diabetes. The reason to banish belly fat is clear. Not just for the sake of looking good, but for a healthy lives in a long run. To get rid of your belly fat, you need to know the best strategy. Cardio exercise don't help to banish belly fat if your eating pattern is not right.
Overhaul your diet plan. This 7-Day Flat Belly Diet from
Prevention
may suit to your lifestyle and weight loss goal.
DAY 1
Breakfast: Banana Split Oatmeal
Cook 1/2 c dry old-fashioned 1-minute oats with water (to desired consistency) and top with 1/4 c microwaved frozen strawberries, 1/4 c sliced banana, 1 Tbsp semisweet chocolate chips, and 2 Tbsp almonds. Total Calories = 359
Lunch: Mediterranean Sandwich
Spread 2 slices sesame-sprouted whole wheat bread with 2 Tbsp black olive tapenade; fill with 2 oz deli turkey, 1/4 c sliced red onion, 1/2 sliced fresh plum tomato, and 3 large romaine lettuce leaves. Serve with 1/2 cup sliced banana. Total Calories = 400
Dinner: Ricotta Calzone
Mix 1/4 c nonfat ricotta cheese with 2 sun-dried tomatoes, diced; 1 Tbsp extra virgin olive oil; 1 tsp minced garlic; and 4 fresh basil leaves, sliced, and stuff into 1 multigrain pita. Warm under broiler until pita is golden and cheese is bubbly. Serve with 1/2 c marinara sauce for dipping. Total Calories = 399
Snack:
1 stick low-fat string cheese, 1 pineapple fruit cup (in juice), 1 c baby carrots, and 2 Tbsp sunflower seeds. Total Calories = 340
DAY 2
Breakfast: Vanilla Fruit-and-Nut Parfait
Mix 1 1/2 c whole grain puffed cereal with 6 oz fat-free vanilla yogurt, 1 c blueberries, and 2 Tbsp almonds. Total Calories = 354
Lunch: Chicken Lettuce Wraps
Brush 4 oz organic grilled chicken breast, chilled, with 2 Tbsp marinade (such as China Blue Scallion ginger glaze); combine with 1/4 c shredded carrots and wrap in 4 large romaine leaves. Dip 1/4 c baby carrots into 2 Tbsp hummus sprinkled with 2 Tbsp pine nuts. Total Calories = 392
Dinner: California Burger
Place a veggie burger between 2 slices of sesame-sprouted whole grain bread dressed with 1 Tbsp Dijon mustard, 3 large romaine leaves, 1/2 fresh plum tomato, 2 Tbsp sliced onion, and 1/4 c sliced avocado. Total Calories = 351
Snack:
Cheese & Crackers Combine 1/2 c nonfat ricotta cheese; 1 c chopped red bell pepper; 1 tsp salt-free Italian seasoning; and 10 large black olives, sliced. Serve with 6 rye crackers. Total Calories = 340
DAY 3
Breakfast: Strawberry Nut Oatmeal
Cook 3/4 c dry old-fashioned 1-minute oats with water (to desired consistency), and top with 1 c frozen strawberries (warmed in microwave for 1 minute) and 2 Tbsp pecans. Total Calories = 375
Lunch: Salmon Sandwich
Spread 2 slices sesame-sprouted whole wheat bread with 2 Tbsp black olive tapenade; fill with 1/2 c canned Alaskan salmon, 1/2 diced fresh plum tomato, and 2 large romaine leaves. Total Calories = 436
Dinner: Chicken Caprese
Serve 2 oz organic grilled chicken breast with 1/2 c steamed wild rice, and tomato and cheese salad. (Toss 1 sliced plum tomato, 1/4 c Italian four-cheese blend, and 2 fresh basil leaves, then drizzle with 1 Tbsp extra virgin olive oil and 1 Tbsp balsamic vinegar, and dust with cracked black pepper.) Total Calories = 436
Snack: Hummus Dip
1 c red bell pepper slices dipped in 1/2 c hummus and sprinkled with 2 Tbsp pine nuts. Total Calories = 353



DAY 4


Breakfast: Apple Pie Smoothie
Blend 1/2 c fat-free or soy milk; 6 oz fat-free vanilla yogurt; 1 tsp apple pie spice; 1 medium apple, peeled, cored, and chopped; 2 Tbsp cashew butter; and a handful of ice. Transfer to glass and eat with spoon. Total Calories = 390

Lunch: Chilled Chicken Pasta
Toss 1/4 c cooked and chilled whole wheat penne with 1 Tbsp pesto sauce, 3 oz diced cooked chicken breast, 1 c halved grape tomatoes, 3/4 c shredded carrots, and 2 Tbsp shredded Italian four-cheese blend. Total Calories = 388

Dinner: Mexicali Salad
Top 2 c organic mixed baby greens with 1/2 c refried beans with green chiles, 3/4 c sweet corn kernels, 1/4 c sliced red onion, 1/4 c salsa, and 1/4 c sliced avocado. Total Calories = 374

Snack:
6 oz fat-free vanilla yogurt, 1/2 c pineapple, and 2 Tbsp almonds. Total calories = 249




DAY 5


Breakfast: Cashew Crunch
Top 1 slice sesame-sprouted whole grain bread with 2 Tbsp cashew butter and 1/4 c raisins. Total Calories = 400

Lunch: Crunchy Tuna Melt
Top 1 slice sprouted whole grain bread with 3 oz water-packed chunk light tuna, 2 Tbsp sunflower seeds, and 1/4 c Italian four-cheese blend. Place under broiler or in toaster oven to melt. Total Calories = 380

Dinner: Pepperoni Pizza
Brush one side of 1 flat multigrain pita with 1 Tbsp extra virgin olive oil, and top with 1/4 c marinara sauce, 13 slices veggie pepperoni, and 2 Tbsp shredded Italian four-cheese blend. Heat under broiler or in toaster oven until cheese melts. Total Calories = 384

Snack: Turkey Roll
Combine 1/4 c chopped avocado, 1 chopped stick low-fat string cheese, and 1 c red pepper strips. Take 4 oz deli turkey slices; top each with even amounts of mixture and roll up. Total Calories = 316
DAY 6
Breakfast: Toast and Cheese
Toast 2 slices sesame-sprouted whole grain bread and top with 1/4 c nonfat ricotta cheese and 2 Tbsp walnuts. Serve with 1 medium apple. Total Calories = 372
Lunch: Veggie Burger Pita
Stuff 1 multigrain pita with 1 veggie burger, chopped, and top with 1/2 c baby spinach, 2 Tbsp chopped scallions, and 1/4 c sliced avocado. Total Calories = 323
Dinner: Salmon Steak Amandine
Serve 4 oz grilled wild Alaskan salmon with 1 1/2 c steamed or microwaved green beans dressed with freshly ground black pepper and 2 Tbsp sliced almonds. Total Calories = 384
Snack: Chocolate-Strawberry Smoothie
Blend 1/2 c fat-free or soy milk, 6 oz fat-free vanilla yogurt, and 1 c frozen strawberries for 1 minute. Transfer to glass, stir in 1/4 c semisweet chocolate chips, and eat with a spoon. Total Calories = 387
Looking fabulous at 48: Kathy was seen relaxing on the beach in Maui, Hawaii in recent June
DAY 7
Breakfast: Breakfast Pita
Warm 1 multigrain pita and fill evenly with 4 scrambled egg whites (1/2 c liquid egg whites makes about 1 c scrambled eggs), 1/2 c fresh baby spinach leaves, 1/4 c salsa, and 1/4 c sliced avocado. Total Calories = 329
Lunch: Picnic Spread
Serve 4 dark rye crispbreads, spread with 2 Tbsp Dijon mustard, 13 slices veggie pepperoni, 10 large black olives, and 1/2 c organic baby carrots with 1/4 c hummus for dipping. Total Calories = 385
Dinner: Cheesy Spinach Ziti
Toss 1/4 c cooked whole wheat penne with 1 Tbsp extra virgin olive oil, 1/4 c nonfat ricotta cheese, 2 Tbsp shredded Italian four-cheese blend, 1/2 c fresh baby spinach leaves, 2 Tbsp sliced onions, and 1/2 c marinara sauce. Total Calories = 388
Snack: PB&A Oatmeal
2 Tbsp peanut butter, swirled into 1 packet instant oatmeal, cooked, and topped with 1 medium sliced apple. Total Calories = 388
P.s. - Don't forget a thing when shopping for this 7-Day Flat Belly Diet. Get your shopping list
here